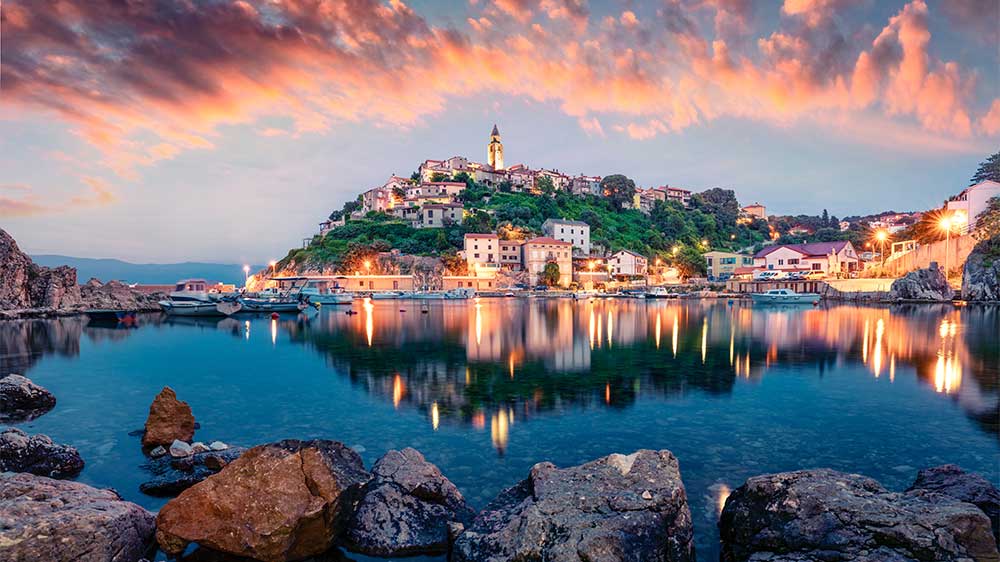 | Day | City |
| --- | --- |
| Saturday | Zadar |
| Sunday | Rab |
| Monday | Krk |
| Tuesday | Cres |
| Wednesday | Mali Lošinj |
| Thursday | Telašćica |
| Friday | Zadar |
| Saturday | Zadar |
Day 1: Zadar
You join us in the capital of Venetian Dalmatia, and once the largest city on the Adriatic. In the shade of late-medieval walls, we start on a journey of beauty and history which is Zadar, a town where eras of history and architecture flow seamlessly and coexist peacefully, as they paint the unique picture of this fascinating place. Wonderful people, food and music are just a stone's throw away, as you take the stroll towards the Sea Organ and the Sun Monument, where some of the most beautiful sunsets in the world can be seen.
Day 2: Rab
At the end of our first sail of the week, we near the unmistakable silhouette of Rab, whose four white stone bell towers leave no space for confusion. As you get lost in its narrow streets, you have the opportunity to study the architecture the Venetians left behind, as well as the locals, with their laid back way of being. Let go and spend the night like a proper Croat, free from worries.
Day 3: Krk
Krk, the town, is conveniently located on the island bearing the same name, tied with Cres for the largest in Croatia. It is, however, the most inhabited island, which you will notice as the streets bustle with life. The counts of Krk, members of the famous Croatian noble family of Frankopan, have made this place famous and wealthy, as well as strong enough to be the last island in the Adriatic to succumb to Venetian rule.
Day 4: Cres
As we arrive on Cres, we notice the distinct mix of influences that the town has endured through its history. Croatian, Italina, Venetia, Austrian and Hungarian, all leaving a stamp upon the face of this town's history and architecture. Enjoy the beaches, bike paths and restaurants that many non-Europeans never get to see, as you visit this hidden gem.
Day 5: Mali Lošinj
Mali Lošinj has always been revered by Croatians and neighboring countries as a bit of a summer super-destination. This small but versatile place has it all, from hotels, bars, restaurants, caps, beaches, bike paths and much more, such as the growing vine scene, ready to jump into the mainstream.
Day 6: Telašćica
As we leave Lošinj, and start on our sail south, we seem to leave reality and enter a realm of unimaginable beauty. This is how some tend to describe the immeasurable beauty of Telašćica Nature Park, part of the larger National part of Kornati. A mix of barren scenery, followed by patches of lush Mediterranean vegetation, dramatic white cliffs, salt lakes and the pristine sea water of this place will leave you breathless, and a night spent here, in the most wonderful silence the nature has to offer will be an experience that you will not soon forget.
Day 7: Zadar
Once again we arrive at Zadar, as one day simply wouldn't do this place justice.
Day 8: Zadar
Depart after breakfast.
Sailing in Dalmatian islands - North Adriatic
General information
Northern Adriatic boasts a monthly average of 270 sun-hours, with an average air temperature of 27 degrees Celsius with 50% average humidity. The sea maintains an average of 21 degrees Celsius, and the average windspeed is that of 8 knots, with exceptions due to wind disruption, in the face of strong northern Bura wind, although in sporadic episodes.