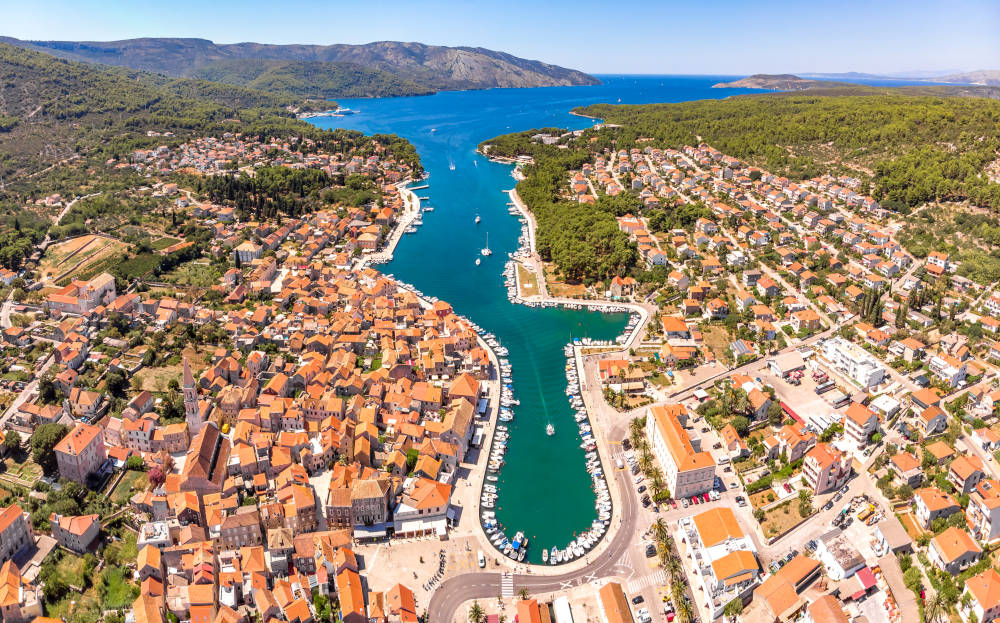 | Day | City |
| --- | --- |
| Saturday | Split |
| Sunday | Stari Grad |
| Monday | Primošten |
| Tuesday | Vodice |
| Wednesday | Šibenik |
| Thursday | Hvar |
| Friday | Split |
| Saturday | Split |
Day 1: Split
You join us in Split, a town the grew out of an imperial Roman palace over a period of 1700+ years, and offers these layers of history and architecture on the palm of your hand, waiting for you to grasp it. Explore the Diocletian's palace, hike the Marjan Park Forest, have a long coffee with the locals, and enjoy the fish from the oldest fish market in Croatia.
Day 2: Stari Grad
We cross the Brač and Hvar channels, and at the end of a very deep and sheltered bay we find Stari Grad, one of the oldest settlements in Europe. Behind the town we catch glimpses of the ancient ager of Hvar, an UNESCO protected field, divided into plots by the ancient Greeks over 2500 years ago. This field, home to wines, oils and other food you won't be able to find anywhere else, still feeds the families of Stari Grad to this day.
Day 3: Primošten
After the beautiful island town we are back on the mainland again, well, in a way, at least. An island located just meters off the shore is a sight which has proven too tempting for Venetians and Croatians of old. That is why they created a land bridge to connect it to the coast and this place developed into Primošten, our destination for the day. Surrounded with miles of pristine beaches, this unique town boasts beautiful sights and architecture, and a feel unlike any other.
Day 4: Vodice
At our northernmost point of the cruise we arrive at Vodice, a place which has it all. Interesting architecture, beautiful beaches and resorts, and nightlife to boot, as well as one of the best fresh markets in Dalmatia. Explore this gem, which stays under the radar for most non-European tourists, and be amazed.
Day 5: Šibenik
As we cross through the channel of St. Ante, guarded by St. Nicholas fortress (unique and breathtaking), we bow our heads as we enter the city of Croatian kings of old, and later, a valued Venetian city, protected by not one or two, but a total of four major fortresses, which stand as a testament to its importance in history. The cathedral of St. Jacob dominates the old town, a building with no peers, the unique architecture of which continues to inspire even to this day.
Day 6: Hvar
As soon as your feet touch the white marble port of Hvar, you are taken away on a journey of history, cuisine and party-culture, which, as the night goes on, will take you further and further down the rabbit hole of street pubs, bars and island nightclubs, in a place which is unlike any other in Croatia. For a calmer traveler, plenty of quiet nooks can be found, where you can enjoy the sights in peace, before the nighttime craziness.
Day 7: Split
As we enjoy our last morning swim stop, we ponder our last destination, one that welcomes us like an old friend. Split takes us into its arms once again, as a cherry on top of a wonderful week
Day 8: Split
Depart after breakfast.
Sailing in Dalmatian islands - Central Adriatic
General information
The Central Adriatic area is well known for its sunny days, at the average of 300 sun-hours, and the 30 degrees Celsius. The sea maintains a lovely 22 degrees Celsius average throughout the summer, and the average windspeed stays at 6 knots, with potential disruptions due to strong Bura and Jugo winds, in sporadic episodes.