Baška
If you ever find yourself driving along the island of Krk and decide to go all the way you will be simply astonished with the sight. What you will see is probably one of the least known, yet unbelievably beautiful and historically important towns in Croatia. Baška, placed in a bay at the end of our biggest island, will not catch your eye just because of its nature, perfect beaches and crystal-clear sea. This small town has even more to offer, especially if you are interested into history and architecture.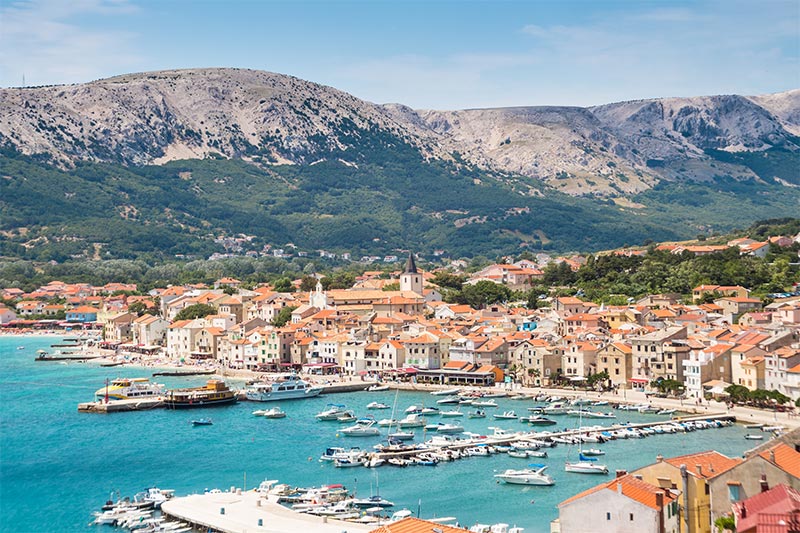 From the first moment when you arrive here you will fall in love with everything around you. Because just the nature itself here is simply amazing. You will be surrounded with walking tracks full of secret spots for perfect photos, small hills where you can hike and diverse flora and fauna. The island of Krk is well known for high number of endemic species and its biodiversity with more than 1300 species of plants.
Even before this place became widely known for its beaches, and there are thirty of them actually, it was famous as a home to Baščanska ploča, a stone tablet dating from 1100. AD. It contains and inscription written in Glagolitic letters and it mentions Croatian king Zvonimir who was donating land to a Benedictine abbey. The most important thing on this tablet is that it mentions a Croatian name written in Croatian language for the first time in history. Because of this, we can say that, in a way, it is a birth certificate to Croatian language. The original is now kept in Croatian Academy of Sciences and Arts and the church of St. Lucy, where it originates from, has a copy of it.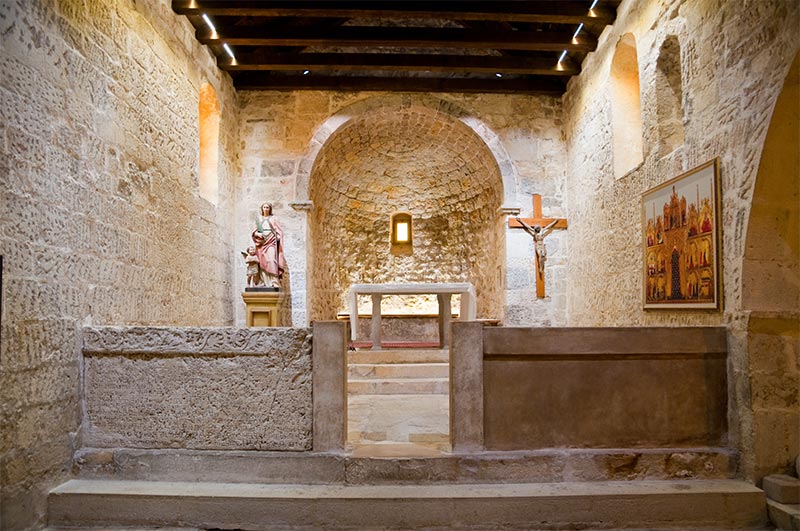 However, Baščanska ploča is not the only historical artifact in this area. If you decide to take a walk around this marvelous place, choosing planned route or just exploring freely, you will find no less than 4 bigger and 30 smaller sculptures which represent Glagolitic letters. The architecture of the town itself, just like the nature around it, will make you want to explore every bit of it and find every hidden corner in search for breathtaking sights. The streets are, like in any old Dalmatian town, very narrow, but with its old buildings, made of that white stone, and masterfully designed port that protects ships from storms, they make a lovely picture.
I already mentioned that this area has 30 pebble beaches, but not just any beaches. If you wanted to decide which one you admire the most it will be a difficult decision. The residents here care about them and keep them pristinely clean, so this area has a Blue flag certification from FEE (Foundation for Environmental Education), as it lives up to their very strict standards. The most famous of them is Vela Plaža located in the center, surrounded with everything you could possibly need, from bars and restaurants to deckchairs and sailboards. Nevertheless, you will not be wrong to choose any other beach in the vicinity, whether more or less exposed. For those that are a bit further away, you can take a water taxi, but then you will probably miss some of the sights in this area so you should probably opt for walking or cycling.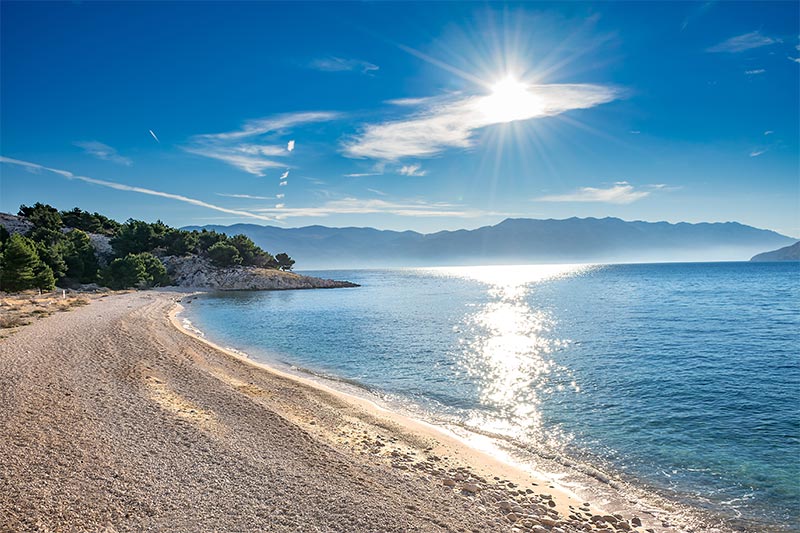 Moreover, with walking and cycling we come to the active part of tourism in this place. The island of Krk itself has around 600 km of tracks for those two mentioned activities and they will take you to some places that will remember forever. The best of them are around Baška. As already mentioned, you can take the so-called learning track and see the Glagolitic sculpture, you can strengthen your quads with bicycle, and trust me they will be rock solid after this. Or you can hike to Portafortuna, the door of luck, or to the Moon, which as a name of a nearby hill. On the other hand, if you are more into sea sports Baška will not let you down on that part, for surfboards to water crafts this will be an unforgettable adventure.