Šibenik
One of the most well-known and attractive nature spots in Croatia is undoubtedly the National Park of Krka. This slice of heaven on Earth is famous for its pristine nature, intricate river paths, and large and majestic waterfalls roaring their watery song. But how many travellers know that just a half hour drive separates Krka from one of the quaintest but indescribably gorgeous towns on the Dalmatian coast?
Šibenik is a name you might not have heard of, but one that you will definitely remember once you walk its historic streets. First mentioned in 1066. by the Croatian King Peter Krešimir the 4th, thus making it the oldest known town in Dalmatia, Šibenik used to be a bustling centre of trade and a vastly important port, and it was even the capital of Croatia (albeit shortly) between 1944. and 1945!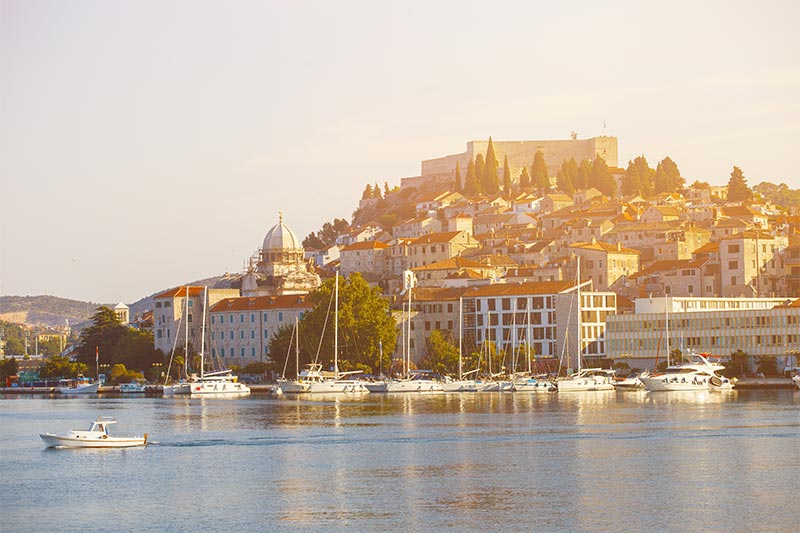 Šibenik originated beneath the fortress of St. Mihovil on a cliff near the mouth of the Krka river, and through many stipulations and after numerous battles with nearby towns, fighting for land supremacy, became a full-fledged city with the founding of the Šibenik diocese in 1298.
If you read anything about Croatian history, you most likely have noticed a large period of time where the Venetian empire was ruling over most of Dalmatia (we mentioned this fact in our very own blog quite a few times), and this is indeed a very important period for the area due to the fact that the Venetians gave our cities the look we know and love today. The same is true for Šibenik. The Venetians took over in 1412. and this is de facto the most important period for the city in terms of culture, clearly visible in the stones of an ancient monument still standing to this day, perfectly capturing the essence of Šibenik of the time in a very unique way.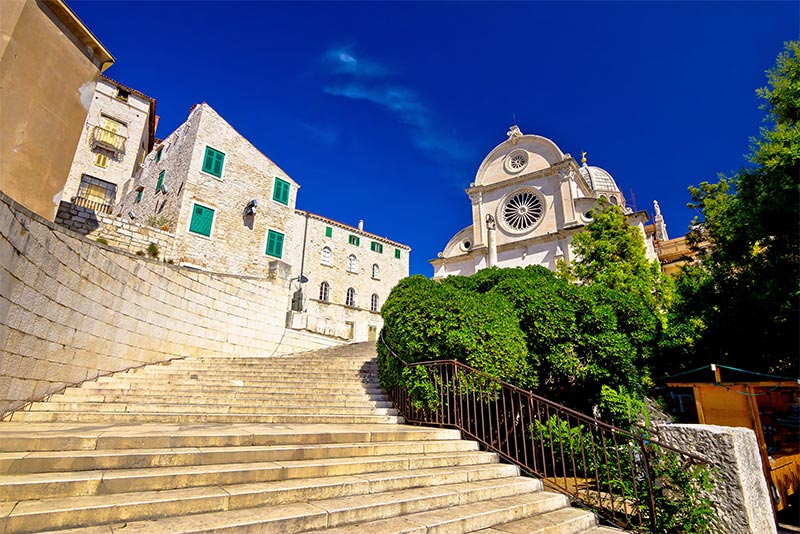 This monument is the Cathedral of St. Jakov, completed in 1535 with the actual building process led largely by Juraj Dalmatinac, a very respected architect at the time. While not a large cathedral in terms of dimensions by any, it is special for two reasons, the first being that on top of this gorgeous building is the first example of a cathedral dome in Croatian architecture. The second, and perhaps a more curious reason this small cathedral is so famous and visited by tourists and locals alike, are the 71 realistic stone heads which circumvent the entire cathedral. Dalmatinac used the locals actually living in Šibenik as models for these and forever immortalized them, giving us a glimpse of the faces, which once made up this gorgeous place. It is notable to mention that during this time, Šibenik was also known as a hub of artists, writers, architects, poets and sculptors which went on to enrich Croatian culture with their many works and innovations.
This huge cultural boom was cut short by a vicious period of a plague in the mid-16th century which was a very devastating blow for Šibenik. This was followed by a steady decline in population and resources and while quite a few empires and rulers have governed over it after the sickness was long gone, the city would never again reach its former glory.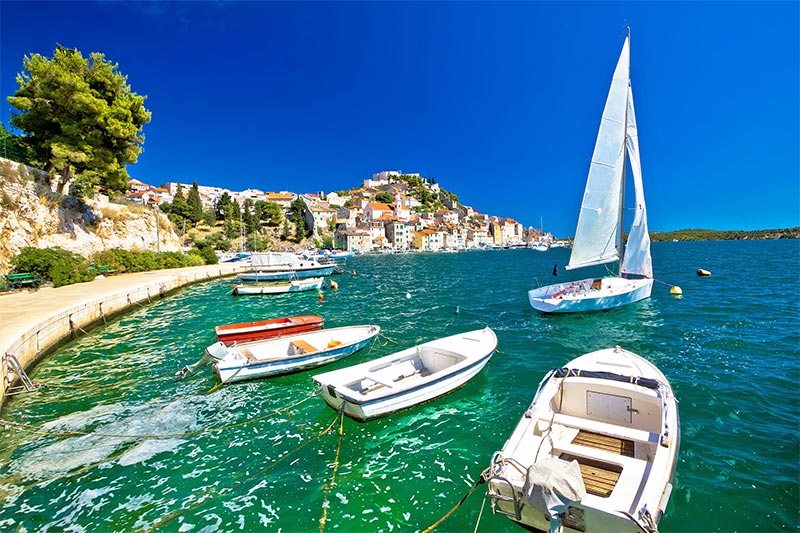 Today, it's one of Croatia's best kept secrets. It's perfect if you're looking for a relaxing stroll along a promenade, with easy access into the winding streets of the old town. Visit the cathedral and get to know the residents of Šibenik as they were so long ago. For those of you who consider yourselves a bit more adventurous and curious explorers of time, there are 3 fortresses surrounding the town to discover and breathe in the history written deep into their stones. As mentioned at the start, the National Park of Krka is a stone's throw away, so why not use Šibenik as a hub to rest after a lovely day in nature?
And of course, if your only wish is to just sit down, relax, try some local delicacies from the many family owned restaurants scattered around the old town and take in the scenery, then Šibenik is waiting!