Trogir
As if you need any more reasons to visit Croatia, allow us to give you another one. Trogir – a small, often overlooked town situated about 30 kilometers away from Split. Perfect for a day trip!
While most of Trogir's residents live on the mainland in the modern area, the old town is actually placed on a small island just off the coast. Some historians say it's a natural island, others argue that it was man made in an effort to protect the town from attacks. As if this doesn't make Trogir stand out enough, South of the old town is Čiovo, which is its own independent island, accessible by a road bridge connecting it to Trogir. Čiovo has its own collection of small villages and picturesque beaches to visit, but I'll cover this in a future post.
Back to the topic at hand, Trogir is one of those places which seem like it was there forever. It is uncertain when the first signs of human life appeared in the area, as every archaeological dig uncovers more and more artifacts, each older than the previous. It is, however, quite clear why the area seems to be inhabited for as long as time exists: extremely fertile land surrounding Trogir which is a very rare thing to find in the rocky landscape of Dalmatia. This land is still cultivated by many families to this day which rely on it for their food and income. Of course, as is the case anywhere in Dlamatia where there is fertile soil, the main product made in Trogir is historically wine. Did you know that Zinfandel finds its roots in the Trogir area?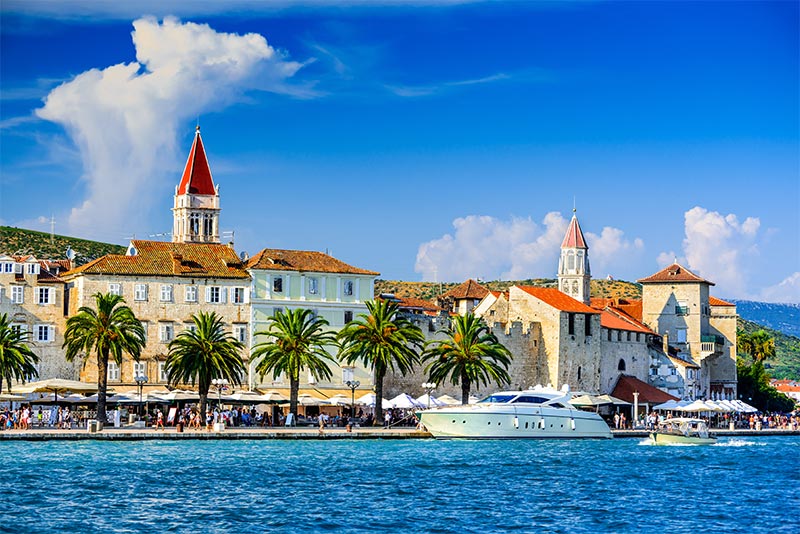 Of course, it was the Greeks who arrived in the 4th century BC who gave shape to the Trogir we know today, while the various groups of people who lived there before had scattered housing. It was then governed by the Romans from the 1st AD and the town was under the municipality of Salona (read more about Salona in our post here).
The Croatians took over when they arrived in the 7th century and this is when the most ornate and picturesque churches and other buildings were built. Needless to say, Trogir experienced a few battles during this time, and even though they were conquered by the Hungarians in the 10th century, it still managed to keep its independence in a sense that it was free to elect its own city officials and clergy.
Trogir was slowly growing, both physically as more and more people came to live there, but also in the sense of trade and economy. This all came to a halt in the 15th century when the Venetian empire overtook it after a long and difficult battle which left the city devastated. The Venetians did rebuild it, however, and built an imposing castle, known as the Kamerlengo castle, on the promenade where it had a good overview of both land and sea threats. Once the Venetian empire ceased to exist in the 18th century, Trogir was once again independent, but this didn't last long as Napoleon's army became the new masters of the town. This was not a bad thing, as the French brought many reforms in terms of municipal life, medicine and the modernization of trade.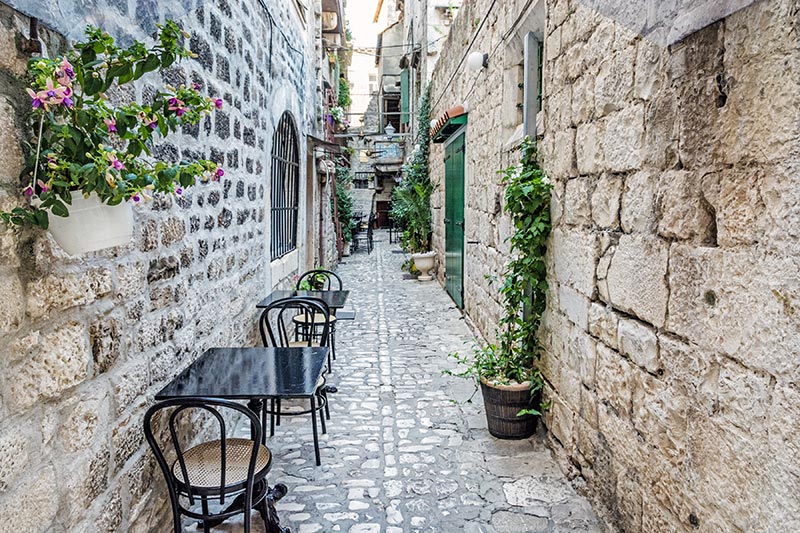 Trogir was under Austrian rule for a period between 1814. and 1914., which was also the last time the town was under a foreign rule. Things, however, did not look too bright as there were a series of epidemics and hunger waves which hit the town. Prosperity restarted once again in the 1970s when tourism and shipbuilding became prominent industries.
Today, Trogir is a perfect day trip destination which brings in visitors both domestically and internationally, and it is not difficult to see why. The old town, while small, offers a unique vibe of small winding stone streets which open up into a promenade, lined with reasonably priced restaurants and pizzerias. The Kamerlengo castle is one of the main attractions, and it is even home to Moondance, an electronic music festival happening in the castle grounds every summer.
Just before the bridge leading to the old town, you will find a daily green market selling fresh produce and fruit, and if you're looking for a nice place to have coffee, why not on the square in the old town just in front of the Trogir cathedral? Whatever you choose, we guarantee that Trogir will satay in your memory for a long time.